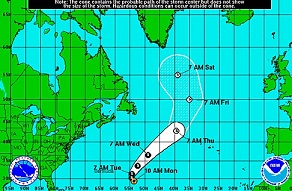 Hurricane Season lasts until November 30th each year, and we just named our 13th storm of the season, Subtropical Storm Melissa. Max sustained winds within the system are at 50mph. The good news? While the system is currently moving NW at 9mph, only in the next day or two will it be in conditions favorable for development. After that, we're expecting a northward, and then northeastward turn back into the northern Atlantic, where conditions become less favorable for strengthening. The east coast shouldn't see much of an impact from this, though neighboring open waters will expect high seas.
Locally, we're just getting rid of the cold front that brought rain to our area, and violent, deadly storms to the Midwest and Ohio Valley. We scraped by with rain and a few mountain thunderstorms, and set up for a gorgeous Monday. Fog starts the day, but sunshine will be dominant by the afternoon. Highs reach the middle 60s to low 70s, with wind from the NW around 10-20mph, gusting to 35mph in Western NC. Tonight, expect clear skies a cool breeze, bringing us back into the 30s area-wide.
Tuesday and Wednesday we cool back down into the upper 40s and 50s, with sunny skies. The windiness should die down, but a breeze from the NNW will continue.