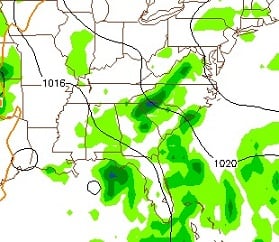 This image shows a projection of accumulated rain between the six-hour period of 8pm Saturday and 2am Sunday morning. The dark shade of green represents 0.25" to 0.5" of rain during the six-hour span. This is just a projection.
Few Storms This afternoon & Evening: Even though a weak front pushed past us last night, humidity remains high. The weak front didn't really put a dent in humidity levels or push it south and east of us. Because of this and our proximity to the front, scattered storms and some downpours will be possible this afternoon and evening.

Another Upper Low = Back to Rain This Weekend: Another upper-level system (this one not as strong as the last) will position itself to deliver more soaking rain around here on Saturday and Sunday. It's tough to tell how much rain many towns will see, but it looks as though most places will pick up more than 0.75" and some places could see more than 3" by Sunday night.
This additional rain will likely make matters a lot worse in areas already impacted with high water and flooding.
Make sure you keep us close this weekend for potential flood watch and flash flooding updates on-air and online.
Hot & Humid by the Middle of Next Week: An upper-level heat ridge digs firmly into place over our heads by the middle of next week. If you have a lake or a pool that you enjoy during the summer, that will be the PRIME place to be. Since we've had so much rain fall here lately, the summer sun will evaporate much of that moisture which will lead to extremely high humidity next week!
____________________________________________________________________________