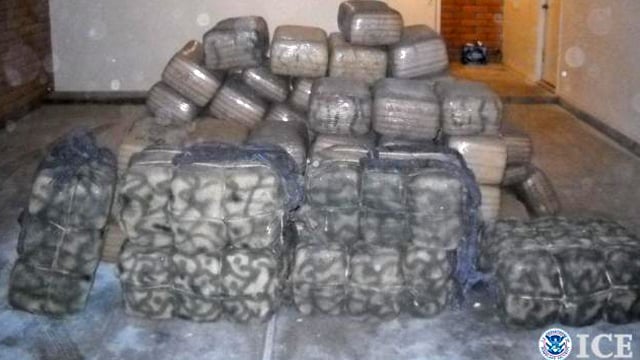 Authorities seize nearly a ton of marijuana. (Source: U.S. Immigration and Customs Enforcement)
NOGALES, AZ (CBS5) -
Nearly a ton of marijuana was seized from a stash house in southern Arizona after authorities busted an attempted drug-smuggling operation Monday.
Law enforcement said they uncovered information that a home in Rio Rico was being used as a staging area for smuggled drugs.
Authorities set up surveillance and got permission from the homeowner to search the property.
Once inside, officers found 75 bundles of marijuana, weighing more than 1,800 pounds.
No arrests have yet been made in the case, which remains under investigation.
The operation was spearheaded by the special agents with U.S. Immigration and Customs Enforcement's Homeland Security Investigations.
They were assisted by the HSI-led Santa Cruz County High Intensity Drug Trafficking Investigative Task Force. The Santa Cruz Sheriff's Office and Nogales Police Department also joined in.
Copyright 2013 CBS 5 (KPHO Broadcasting Corporation). All rights reserved.