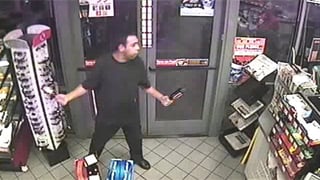 Surveillance photos capture the suspect's movement. (Source: Pima County Sheriff's Department)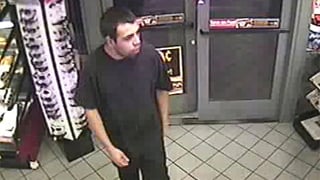 The robbery occurred on April 24 at about 9:50 p.m. (Source: Pima County Sheriff's Department)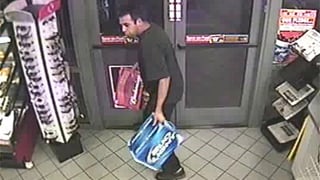 The suspect fled the scene and remains on the loose. (Source: Pima County Sheriff's Department)
TUCSON, AZ (CBS5) -
The Pima County Sheriff's Department needs help locating a man who robbed beer from a Tucson-area convenience store.
The suspect grabbed two 24 packs of beer bottles and attempted to leave without paying for them at a Circle K store at 4990 N. Oracle Rd. on April 24.
When he discovered he had been locked inside the store, the suspect grabbed two bottles of beer and started waving them at the clerk, threatening to break things if she didn't open the door, police said.
The clerk unlocked the door and the suspect fled.
The suspect is described as Hispanic. He was last seen wearing black pants and a black T-shirt. The store's surveillance cameras captured his movements.
People with any information about the crime are asked to call 911 or 88-Crime.
Copyright 2013 CBS 5 (KPHO Broadcasting Corporation). All rights reserved.