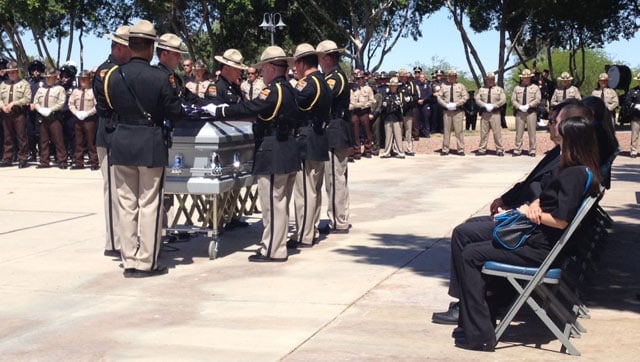 DPS officers stand at the casket for fallen Officer Tim Huffman on Wednesday. (Source: KSWT-TV)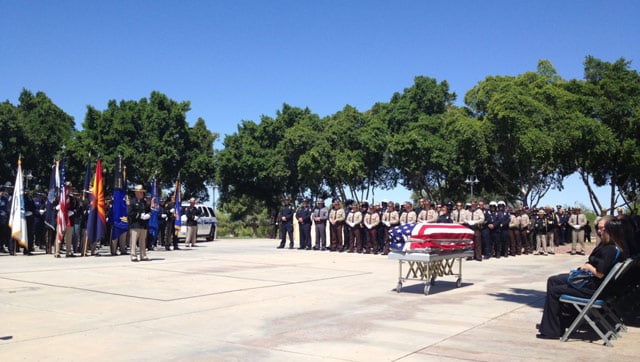 There was a large turnout of DPS and other peace officers for the services. (Source: KSWT-TV)
YUMA, AZ (CBS5) -
Funeral services for an Arizona Department of Public Safety officer who died in a crash were Wednesday in Yuma.
Tim Huffman, 47, was a DPS officer for 14 years, working the entire time in the Yuma district.
Huffman was killed on May 6, the same day as fellow DPS officers and Gov. Jan Brewer attended memorials for officers killed in Arizona.
Huffman was killed when a tanker truck slammed into several vehicles at an accident scene on Interstate 8 near Wellton in southwestern Arizona.
He is survived by three siblings who live out of state. Huffman became the 29th DPS officer to lose his life in the line of duty.
The driver of the semi-truck was Jorge Espinoza, 33, of Yuma. At the time of the crash, Espinoza was traveling from Yuma to Phoenix, DPS said. He escaped injury.
On Friday, Espinoza was booked into the Yuma County Jail on one count of manslaughter, 13 counts of endangerment and seven counts of criminal damage.
Those wanting to donate to help Huffman's family can go to any branch of the Arizona Federal Credit Union that is affiliated with the Share Branch Network, account No. 848234.
Copyright 2013 CBS 5 (KPHO Broadcasting Corporation). All rights reserved.