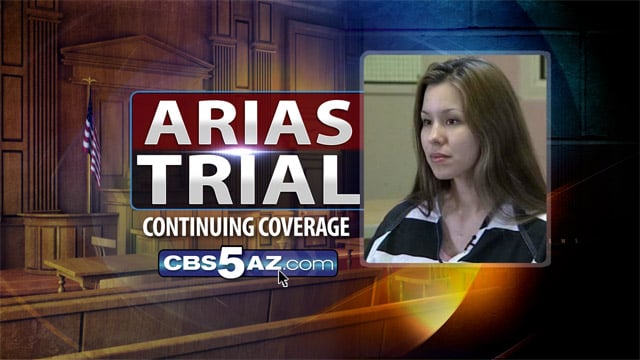 PHOENIX (CBS5) -
Testimony is set to continue today in the Jodi Arias murder trial after a short day in court Wednesday.
Judge Sherry Stephens dismissed the jury early.
"Ladies and gentlemen, an issue has arisen that will prevent us from going forward today, so I'm going to be dismissing you for the rest of the afternoon," Stephens said. "We'll see you back here tomorrow morning at 9:30."
[WATCH ON CBS5AZ.COM: Live feed of Jodi Arias trial]
Sources told CBS 5 News Arias suffered another migraine headache.
Wednesday was the second day of testimony from prosecution rebuttal witness Dr. Janeen DeMarte, who classified Arias as borderline personality disorder.
Defense attorneys are trying to impeach DeMarte and are taking jabs at her lack of experience. DeMarte has only been a psychologist since 2009.
[Text BREAKING to 23765 to get news alerts on your mobile phone]
Stay with cbs5az.com and CBS 5 News as this story develops.
Copyright 2013 CBS 5 (KPHO Broadcasting Corporation). All rights reserved.