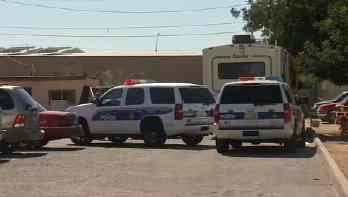 Body found in Phoenix Dumpster. (Source: KPHO-TV)
PHOENIX (CBS5) -
Phoenix police are investigating the death of a person whose body was found in a Dumpster near North 25 Street and Grandview Road.
Residents of the Desert Villa apartment complex made the gruesome discovery at about 8 a.m. Sunday.
"We woke up and somebody saw too many flies at the garbage can - so they started wondering what it was," said resident Joaquin Moreno.
Police said they don't know if the body is that of a man or a woman - or how that person died.
"It's scary to think about," said Moreno. "You can't be fooling around with nobody - cause you'll end up in a trash can."
Police tell CBS5 News they don't know how long the body had been in the Dumpster and they don't yet have a suspect.
Stay with cbs5az.com and CBS 5 News for updates on this developing story.
[Text BREAKING to 23765 to get news alerts on your mobile phone]
Copyright 2013 CBS 5 (KPHO Broadcasting Corporation). All rights reserved.