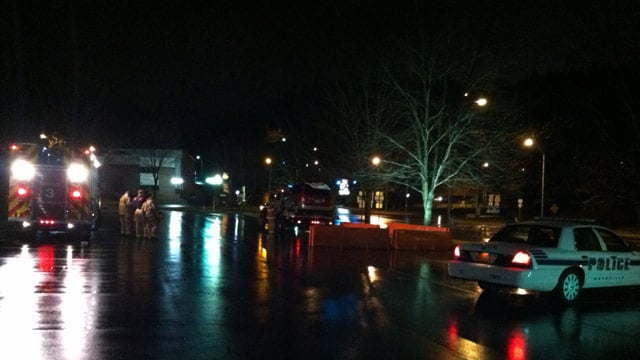 Emergency crews along Charlotte street where the van's driver stopped and discovered the pedestrian. (Jan. 14, 2013/FOX Carolina)
ASHEVILLE, NC (FOX Carolina) -
Asheville police said they are investigating a series of crashes that killed a pedestrian near downtown Monday night.
Police said 45-year-old Dean Bush, of Asheville, was first hit along Tunnel Road near the Blue Ridge Parkway as he was crossing the road. They said Bush was then hit by the second car as it drove through the opposite lane. They said a third vehicle then hit Bush before turning onto Blue Ridge Parkway. They said a minivan then hit Bush and dragged him from Tunnel Road onto Interstate 240 west to Charlotte Street, where the van exited the interstate. They said that when the third driver stopped her van, she noticed Bush's body lodged underneath.
Police said the crash is under investigation and officers will consult with the district attorney's office to determine if charges are warranted.

Investigators are still looking for the third vehicle involved in the series of crashes. It was described as a small, white passenger vehicle that was traveling west on Tunnel Road.
Anyone with information about the third vehicle or the crash was asked to call the Asheville Police Department at 828-252-1110.

Copyright 2013 FOX Carolina (Meredith Corporation). All rights reserved.