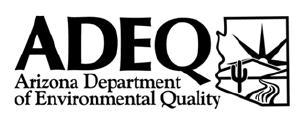 © Arizona Department of Environmental Quality
PHOENIX (CBS5) -
The Arizona Department of Environmental Quality has issued an ozone health watch for Monday evening and Tuesday.
ADEQ said that active children and adults and people with lung diseases should avoid outdoor exertion.
The department said that other tips to help mitigate elevated pollution include avoiding long lines in drive-thru windows, unplugging unused appliances, gassing up the car after dark and carpooling.
To find information about a carpool or vanpool, visit www.valleymetro.org.
Ozone can irritate lungs and aggravate existing health conditions such as asthma, and people who are unusually sensitive to air quality should consider limiting their time outdoors.
The department also recommends unplugging unused appliances and lights and fueling vehicles after dark.
Copyright 2012 CBS 5 (Meredith Corporation). All rights reserved