Questions of comments? Post them below or Email Meteorologist Robb Ellis : rellis@wect.com .

The big question around town (and around much of North Carolina) is "Will it snow this weekend?" I know you want answers so, here's all the in-depth stuff, that I can't cram in the small time I have on the air. I'll provide updates as often as I have time for.

***UPDATE****
Friday 10:55 PM Update
The system appears to be moving right along the Carolina coastline, and temperatures have warmed way up along the immediate coast. Upper 50's may be possible. A couple of lightning strikes also reported as the low approaches. Heavy rain has still been falling and here are some of the numbers from the area tonight.

Wilmington 1.20"
North Myrtle Beach 2.79"
Oak Island 1.71"
Lumberton 0.44"
Whiteville 0.37"

Friday 8:55 PM Update
A quick trip out to grab a bite to eat...the wind, cold and rain make it miserable out there! Winds have been gusting to around 30 mph most of the evening. The biggest concern now is areal flooding from heavy rain, but also coastal flooding. Winds are generally out of the east and northeast and could pile up water along the coast, specifically the east facing beaches. Also, a high tide is expected about 9PM tonight.

Some coastal flooding was being reported in Carolina beach along Canal Dr where water was covering the road."

Here are current wind gusts:




Friday 5:35 PM Update
A busy day as you can imagine, and of course Murphy's Law applies to weather as well. Computer difficulties in the weather center means I get to play catch up this afternoon. Finally I get a little time for a brief update.

The storm has unfolded pretty much as forecast. Already the Triad has picked up 1 to 3 inches at this time. Boone and Wilkesboro have picked up between 4 and 6 inches. I'd strongly advise against driving west of Raleigh this weekend. It's going to be an absolute mess there through the weekend and beyond.

Here are some snow totals as of 5PM
Greensboro 1"
Winston Salem 3"
Wilkesboro 6.5"
Boone 4"
High Point 1"



Friday 1:35 AM Update
One last update before I head to sleep. I'll provide additional updates tomorrow as the system unfolds. No major changes to the forecast tonight. There has been some increase in confidence in late Saturday wintry mix chances, though any precip would very brief.
Temperatures were in the low to mid 30s tonight for the 11 PM news, which was a little concerning. The clouds were moving in and should stop any additional radiational cooling. Warming will be expected early tomorrow along the coast. Once the low gets into the Atlantic the winds will begin to shift and become east. Warm moist air from the Atlantic will move in, really warming up the coastal locations. There's going to be a pretty dramatic temperature contrast across the Carolinas.

Here's the current temperatures and radar (images update automatically).




Thursday 8:45 PM Update
I meant to put this in the last update, but I forgot. Our reporter and weekend anchor Max Winitz sent me this pic while he was visiting family in Miami. The same storm system bringing snow to the Carolinas is bringing heavy rain and severe weather to south Florida. It's overcast, but it's still a pretty sight. It was 81 degrees in Miami today. =/



Here's the severe weather threat for Friday. It's rare that S. Florida gets a Slight Risk.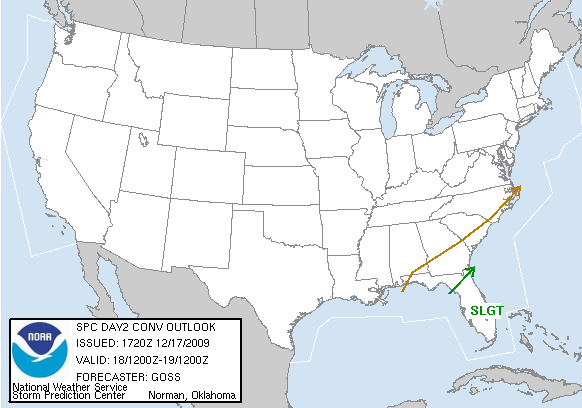 Thursday 8:15 PM Update
Here's more info from the GFS. Model graphic output of low level pressure and 6 hour precip.



Notice the area of green along the NC/SC border, and also the 850 mb "0" line offshore. This would be the window where moisture and cold enough air (in the upper levels, where snow crystals can form) will be in place. Because the global model has a low resolution, the exact location and outline should be ignored, and the trend should be noticed. Enough moisture to squeeze out a few flurries or snow showers late Saturday night. But it's still only a very small amount of moisture.

As a side note, the NAM model is showing nearly nothing once the system exits. I'm not convinced yet, so I keep our snow chances very small. Here is the NAM output for the same time.



Thursday 7PM Update
Latest GFS (that's the long-range global model...good for long term forecasting, not so good at resolving small scale features) is hinting at a bit more moisture for the backside of the surface low, when the upper levels may force a little lifting. This could mean a decent chance for snow flurries into SC and western parts of the Cape Fear region (closer to I-95) late Saturday and early Sunday.


Thursday 5 PM Update
More model data and a closing forecast window means that things are coming together nicely for a winter storm across NC. Fortunately (or unfortunately if you wanted to see a little snow) for southeastern NC, rain is our likely only P-type for this system. The track of the low looks more westerly each time I look at the new data. And now an inland low track is a possibility.

Similar to this scenario, except I'm not anticipating any severe weather, as there just aren't enough of the parameters in place, and the track will not likely be that far inland.


Climatologically favored precip pattern with inland moving coastal low

But there still is hope for all you snow-wishers. The upper low has increasingly started to show up on the models as throwing a few flurries in Saturday night. A good snow burst from one of these could leave a little swath of snow. This would be more likely to the west (Bladen, Columbus, maybe Sampson Counties. Some of the models I looked at earlier actually put snow in Columbia SC and Charleston, SC.

Thursday 9 AM Update
Not surprisingly, the National Weather Service in Raleigh posted Winter Storm Watches for Raleigh and points north and west. It now looks like a nice winter storm is unfolding for central and western North Carolina. Some of the snow totals for the Piedmont could be very impressive....10+ inches?

Models have come into much better agreement this morning, and as I wake up things are pretty much on track. There are a couple of interesting things to note. The storm could begin as snow in the extreme northern parts of our viewing area before eventually changing back to rain. Rain is still likely the only type of precipitation that most of southeastern NC will see.

On the backside however there is still a slight chance some of this could mix in. I'm still not optimistic about that, as it looks like the moisture exits just before the cold air is able to wrap back around.

I do feel a little more confident about putting snow in for Sunday early morning as the upper level low moves in, but as is typical, there is not a lot of moisture with this system. And accumulations would be little if any at all. But a flurry is a distinct possibility.

That's all for now. I'll post more details and some nice pretty pictures when I have a bit more sleep!


Update : Wednesday (12/16) 6PM
Here's a look at the "BIG" snowstorm from January 20, 2009. It snowed about an inch in Wilmington.



The first thing to talk about is how many variables there are with this system. Winter coastal lows in the Carolinas are always a source of frustration for meteorologists. There is so much "bust potential" with these systems, as an error in 20 miles can completely change whether someone sees a cold rain, or inches and inches of snow.

My thoughts at this point are as follows. Rain will begin Friday midday, and some evaporational cooling will commence. Rain will continue through Saturday afternoon. Some of the northern counties will see a brief transition before the rain ends. Scattered flurries may be possible late Saturday night and early Sunday morning. Since the models aren't in agreement and there's still a good bit of time to forecast, I thought we'd start with Climatology and variables. The questionable parameters are below :

1) Cold Air
Cold air has moved in and should remain in place, but as is always the case with these systems, it will be marginal across NC, and so a cold rain with a possibility of transition is the current forecast. Of all the ingredients (like most Carolina events), this is likely the limiting and determining factor in this system. Any shift in just a couple of degrees results in completely different outcomes with respect to precipitation type and accumulation. And let's be honest...I'm happy when I'm within 2 degrees on a normal day. But when you hover around that 32 degree mark, it has so many more consequences.

2) Moisture
Moisture will be plentiful. In the beginning of the system, temperatures may cool a bit as some "priming" occurs. When the atmosphere is dry (especially at the surface) and cool rain begins to fall into that dry air, evaporative cooling takes place. At the onset of the precipitation, temperatures may drop quickly. However, if the precipitation is too heavy, it may transport some of the warmth from the upper levels to the surface.

3) Low Track
The track of the surface low also makes a big difference. There have been studies just looking at the location of surface coastal lows along the Carolinas. Tracks closest to the coast seem to be the big snow makers, but typically that is farther inland. In order for coastal NC to get significant snow, the low has to be in a sweet spot...not too far away from the coast that we don't have enough moisture, but not so close that the heaviest precipitation and cold air is farther inland.

These two images show the general precip pattern compared to the low track. At this point the along-shore path looks more likely.


Images courtesy of the State Climate Office
The State Climate Office (my old employer) does some AMAZING work and have a great bit of info about winter storm climatology.

Just to give you an idea of how things can change depending on the track of the low...

Track Along Shore



Track Slightly Offshore



4) Timing
Of course, you have to have these components in place at the same time. I don't think timing will be much of an issue, but the timing has sped up. Already today I've moved rain in earlier on Friday, when yesterday I had rain holding off until Saturday. This may also mean rain ends earlier Saturday (or transitions to snow faster).


Have questions of comments? Post them below or Email Meteorologist Robb Ellis : rellis@wect.com .